Pizza Fun Facts
The current world record in pizza eating is CristianDumitru of Romania, who in 2006 managed to eat 200 pound of pizza in a week.
The largest known pizza in the world was created in 1990 at Norwood Pick 'n Pay hypermarket in Johannesburg, South Africa. By using 500 kg of flour, 800 kg of cheese and 900 kg of tomato puree, this pizza in the end reached the diameter of 37.4 meters and thus entered the Guinness Book of Records as the largest.
Until 2005 when Pizza restaurant owner Bill Bahr from Iowa Falls, Iowa, managed to create truly immense pizza with the team of 200 helpers. By using 4,000 pounds of cheese, 700 pounds of sauce, and 9,500 sections of crust, his 129 X 98.6-foot pizza managed to provide 10 slices of pizza to every 5200 residents of Iowa Falls.
October is the National Pizza Month in the United States.
The most popular topping in the U.S. is pepperoni (it can be found in 36 percent of all their pizzas). Their least favorite topping are anchovies.
The pivotal moment that brought pizza into attention of the entire United States population was after the end of World War II, when American soldiers returned home from the European fronts and brought with them stories of the incredible Italian meal.
The first celebrities that promoted pizza in America were Frank Sinatra, Jimmy Durante, Jerry Colonna, and baseball star Joe DiMaggio.
The longest delivery happened in 2004 when vegetarian pizza was transported from Feltham, England to Melbourne, Australia, on a journey over 10,000 miles.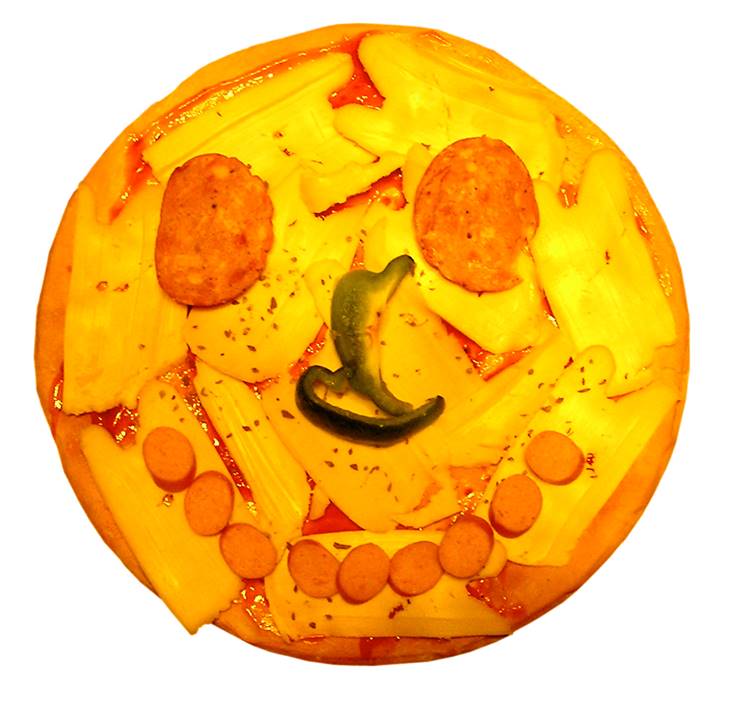 The most expensive pizza was made by the restaurateur DomenicoCrolla. His recipe consistent of many exotic toppings, such as Scottish smoked salmon, medallions of venison, edible gold, sunblush-tomato sauce, lobster marinated in the finest cognac and champagne-soaked caviar. Final price that this pizza reached at the charity auction was £2,150.
The most expensive pizza that is currently that can be bought today can be found in Nino's Bellisima in New York City. Priced at $1000, this 12 inch pizza is topped with caviar, lobster, cremefraiche and chives and has to be ordered 24hrs in advance.
The record of most pizza deliveries holds the night when American professional football player and actor O. J. Simpson fled from police in his famous car chase.
As of 2010, United States hosts over 61 thousand pizzerias, with over 9 thousand of them in New York alone
Pizza industry is worth $30 billion dollar today.
The most popular pizza diameter in the United States is 14 inches.
Annually US consumers buy approximately 3 billion pizzas, with the Super Bowl week being the most popular time of the year for this dish. Average American eats 46 slices of pizza each year.
5 billion pizzas are sold in entire world annually.
The lack of fertile ground in Iceland's has forced vegetable pizza topping to be grown in greenhouses.
Over 1 billion pizzas are delivered to consumer houses each year.
The first pizzeria in US was founded by New York City cook Gennaro Lombardi in 1905.
The most popular topping in Netherlands is "Double Dutch" (double portions of cheese, onions and beef).
Pizzerias represent 17 percent of all U.S. restaurants. They average use 55 pizza boxes per day.
In 2010 over $4 billion worth of cheese is estimated to found its home as a topping on a pizza.
Americans eat around 100 acres of pizza each day (or around 350 slices each second).
The most successful pizza delivery company is Domino's Pizza.
The world record for fastest pizza making currently stands at 14 pizzas in 2 minutes and 35 seconds.
Italy has elected a low that preserves the recipe of their traditional Naples' Neapolitan pizza.
Mozzarella cheese pizza accounts for nearly 80 percent of all sold pizzas in U.S.